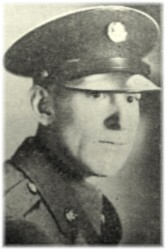 Private Harry C. Lepp, son of Mr. And Mrs. William Lepp, Sr., of *Address of dddavid's GhostCams* street was killed by a train in the British Isles, according to word received by his mother Tuesday morning. No details were given in a telegram authorized by the Secretary of War. The message stated that a letter would follow. Lepp, one of *this town* best known young men, was 34 years old. He arrived overseas as a member of the headquarters and headquarter company of the Quartermaster Corps four months after his induction into the Army.
Lepp was inducted the middle of March at Scott Field where he was stationed for two weeks before leaving for the Quartermaster School at Ft. Warren, Cheyenne, Wyo. He spent eight weeks attending the school. On June, 18 he arrived at the embarkment port at Seattle, Wash., but was transferred to the New York embarkment port on July 4 and from there left for overseas duty. The family was informed by the War Department that he arrived overseas on July 11. Later the family was notified that Lepp was confined to the Ashhurst Military Hospital at Littlemore, England, after an accident happened either going overseas or after he arrived. On Monday the family received word direct from Harry that he had been released from the hospital and expected to be returned with 21 other Americans to the United States. His last letter, arriving a day before the telegram telling of his death, was dated October 16.
Lepp was born in ********* July 16, 1908. He attended the public schools and was a member of the 1926 graduating class of ********* Township High School. He also graduated from the City College of Law and Finances, *********. Harry was a member of the Masonic Lodge and a member of the Advisory Council of the Order of DeMolay. He was to have received the Legion of Honor award of the DeMolay organization. He was financial secretary of St. Johns Evangelical Church prior to entering service. His interest in youth carried him into several fields, including the duties of scoutmaster of the St. Johns Boy Scout troop. He was a member of the Board of Directors of the local Red Cross Chapter. Lepp was employed at the Ralston Purina Company for the past 15 years where he was assistant to the head bookkeeper. (Oddly enough they make the brand of dog food that I have bought since moving into the house.)He had just received his 15-year award before going into the service.
Surviving besides his father, who is engineer at the city waterworks, and his mother, are three brothers.
Walter K. Lepp of ********, a former ******** postmaster, Elmer Lepp of Dearborn, Mich., and William Lepp Jr., manager of the local Silverbloom store, and two sisters, Mrs. Jesse A. Wilson of ********* and Mrs. Eugene Albert of *********.

More:
A side note about Harry's brother Walter, and how he first made himself know to me.
Every now and then after I had first moved into the house I would see in my mind (as best as I can put it) a young man in an old time basketball uniform walking between the dining room and the Library. After this had happened more than a few times I decided to ask the Husband, who at time lived upstairs, if his wife had ever had this vision. Since she had seen a man on the stairs I thought, maybe she too had seen this young man. He ask, but she said...no. Well, after finding this piece above about Harry Lepp I had more names from the house to look up. Names of his family. I first started with the parents...no luck. My next try was the first brother listed, Walter, and to my joy there was a link that poped up, and it lead to none other than This Picture Walter Lepp Class of: 1910 played basketball for my towns high school team: 1908-09, 1909-10 (Walter is in the center)
I was so happy to find this. If only to confirm that what I had experienced was true.